Product Designer and Shape Volunteer Jessica Ryan-Ndegwa sheds some light on 'Ways of Seeing Art', our four-day Tate Exchange programme.
Tate Exchange is a space for everyone to collaborate, test ideas and discover new perspectives on life through art, situated on the 5th floor of the new Tate Modern building in London, and organisations are given learning- and collaboration-led 'residencies' on the programme where they take control of the public space for a certain amount of time. Between the 23 and 26 of February, Shape Arts was in residence at Tate Exchange with an art-and-audio-description programme 'Ways of Seeing Art', built around a showcase of their Adam Reynolds Memorial Bursary Shortlist artworks. Shape set up the Adam Reynolds Memorial Bursary in memory of the life and work of sculptor Adam Reynolds, and the aim of the bursary is for mid-career disabled artists, or artists looking to develop their professional practice, by offering available funds and a three month residency at a high profile arts venue, with artists shortlisted having their work shown in a Shortlist exhibition.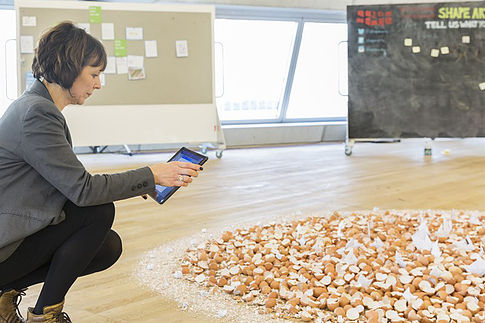 'Ways of Seeing Art' also showcased artwork in a series of workshops led by blind and visually impaired artists, along with a symposium – 'Bridging the Gaps: Exploring the link Between Art & Audio Description'. The programme presented a chance for the public to engage with the artwork in the gallery verbally by having a go at creating and sharing their own audio descriptions with the use of iPads, or if they didn't feel comfortable doing that, could listen to the original recorded audio descriptions – or those created by members of the public – on headsets.
The aim of the residency was to invite the public to question "how do you 'see' art? And how do we describe it to others?". With the four workshops, it allowed the public to gain an insight into how stories are told and explore the different ways to describe physical materials and visual information through a variety of mediums.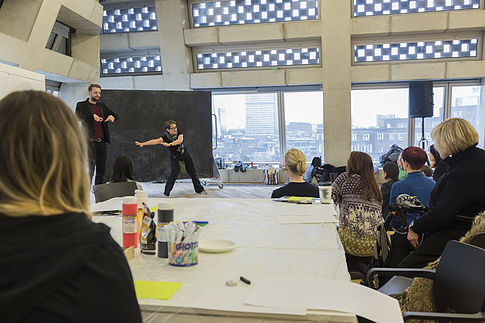 Having spent most of the 4 days invigilating the event it was an eye-opening experience to be a part of, as before attending I was intrigued and slightly unsure as to what the limitations were on how far you could take audio description. Through the live workshops that were taking place I was re-introduced to audio description in different contexts.
What really stood out for me over the 4 days is that by having a go at recording my own audio descriptions on a number of paintings I now have an appreciated insight as to how valuable audio descriptive technologies are to many people.
You can watch a recording of the symposium at: https://www.shapearts.org.uk/news/bridging-the-gaps